IPCC making 'immediate and detailed' assessment of a number of allegations as crisis grows among senior police ranks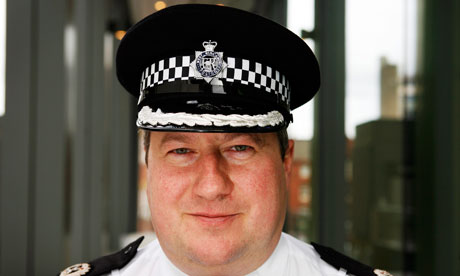 Stuart Hyde, the temporary chief of Cumbria police, has been suspended on suspicion of serious misconduct.
A crisis is brewing at the top of English policing after another chief constable was suspended on suspicion of serious misconduct.
Stuart Hyde, the temporary chief of the Cumbria force, was suspended after a meeting of the police authority examined what it said were a number of allegations that may indicate a breach in the standards of professional behaviour.
The Independent Police Complaints Commission (IPCC) has been called in by the force and is making an "immediate and detailed" assessment of the allegations.
Hyde's suspension brings the number of the country's most senior officers who have faced or are facing disciplinary action or investigation by the police watchdog to nine. It is unprecedented for so many senior serving officers to be the focus of investigations at the same time.
The Cumbria force swiftly called in Bernard Lawson, deputy chief constable of Merseyside, to take over the force on Friday, after Hyde's suspension was announced.
Ray Cole, Cumbria police authority chairman, would not reveal the details of the allegations against Hyde. "Following a meeting of Cumbria police authority a decision has been taken to suspend Stuart Hyde, temporary chief constable of Cumbria Constabulary, from duty," he said.
"The decision has been taken following a number of allegations of serious misconduct, which may indicate there has been a breach in the standards of professional behaviour, by Mr Hyde, in his activities as temporary chief constable.
"The authority takes all allegations against any police officer seriously and must address these allegations in an appropriate manner."
Lawson attempted to reassure the public that they would be policed properly during a "difficult" period.
"The constabulary is fortunate to have police officers and staff who are committed to serving local communities and dedicated to making a difference to the quality of people's lives," said Lawson. "We are certainly all determined to ensure this continues as we work to make Cumbria safer."
It is understood the allegations against Hyde are not of a financial or sexual nature. Hyde is the lead on e-crime prevention for the Association of Chief Police Officers (Acpo) and one of few senior police officers who is active on twitter.
The IPCC said in a statement: "We can confirm we have received a referral from Cumbria Police Authority in relation to allegations against temporary chief constable Stuart Hyde.
"We will be carrying out an immediate and detailed assessment of this referral to determine the level of our involvement in an investigation into the allegations."
In a fortnight the chief constable of Cleveland, Sean Price, will face a secret disciplinary hearing into 11 allegations of gross misconduct.
Price faces claims he used "undue influence" during the appointment of the daughter of Dave McLuckie, the former police authority chairman, to a civilian post within the force. Price – who is suspended from his post – is also the subject of an ongoing criminal investigation.
His deputy, Derek Bonnard, faces a disciplinary hearing for eight counts of alleged gross misconduct.
Both men were arrested last year as part of the investigation led by the IPCC. The allegations against them include claims of the misuse of public funds and corporate credit cards. Both men deny wrongdoing and have made legal claims for wrongful arrest.
The police watchdog is also investigating four senior officers from three separate forces over allegations of misconduct and possible criminal offences during a major investigation.
Adrian Lee, chief constable of Northamptonshire, and his deputy Suzette Davenport; Jane Sawyers, assistant chief constable with the Staffordshire force; and Marcus Beale, assistant chief constable with the West Midlands, are all under criminal investigation. On behalf of the IPCC, Mick Creedon, Derbyshire chief constable, is examining claims that the officers withheld material and evidence from a murder trial. The four police chiefs have not been suspended from duty or arrested.
Last May Grahame Maxwell, former chief constable of North Yorkshire, who admitted gross misconduct for helping a relative get a job during a police recruitment campaign, left the force with a £250,000 "golden goodbye".
Maxwell, 51, escaped the sack and was given a final written warning after a secret disciplinary hearing. But when the police authority refused to renew his contract it triggered a clause entitling him to £247,636 in compensation.
His deputy Adam Briggs – who was also accused of helping a relative get a job during the same recruitment campaign – was disciplined and had a charge of misconduct upheld against him. He has since retired.
Cumbria police chief Stuart Hyde suspended over misconduct claims
And: Temporary chief constable of Cumbria suspended over misconduct claims